Highly energized argon gas plasma bombards the target surface, "sputtering" out target atoms/molecules onto the substrate surface.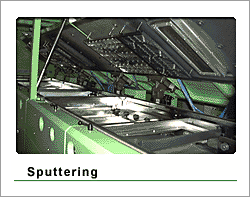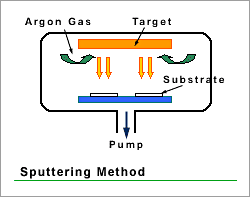 Features

Thin film purity is quite high.
Target alloy composition is represented as is in the thin film.
Most metal and semi-conductor material can be sputtered.
Thin-film's adhesion to substrates is very strong.
The raw materials are introduced as gas and they become plasma under very high AC or DC power.
The gas plasma goes through chemical reaction over the surface of the substrates creating thin films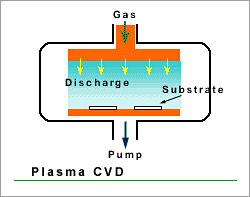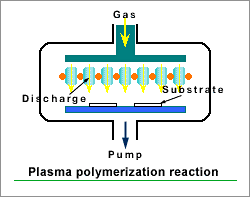 Features

Low temperature reaction eliminate heat stress in the thin film..
Non-metallic including some organic film can be deposited.,
Film is virtually defect (such as pin holes) free.
Suitable for non-crystalline thin film